What is a Parlay?
A parlay is a multi-wager bet that requires all of the legs to win in order for you to cash your ticket. The more teams you include, the more money you can potentially win. But if any of your selections fail to win or cover the point spread, your ticket is toast. Each oddsmaker has their own individual rules for what events can and cannot be parlayed together, so make sure that you are familiar with your book's house rules.
Why Should I Bet Parlays?
Why do we buy lottery tickets? Or play slot machines? They can be fun! Parlay bets can provide some fun longshot entertainment, but serious bettors should not rely on parlays for long-term success. However, there are opportunities where small (keyword: small) parlays can present value to a seasoned bettor. Interested in betting on two strong MLB favorites, but don't want to lay -250 juice on each? A two-team parlay becomes more affordable. Is there a correlation between events (i.e. if Team A wins, the game is also likely to stay under the total)? Try them together in a parlay.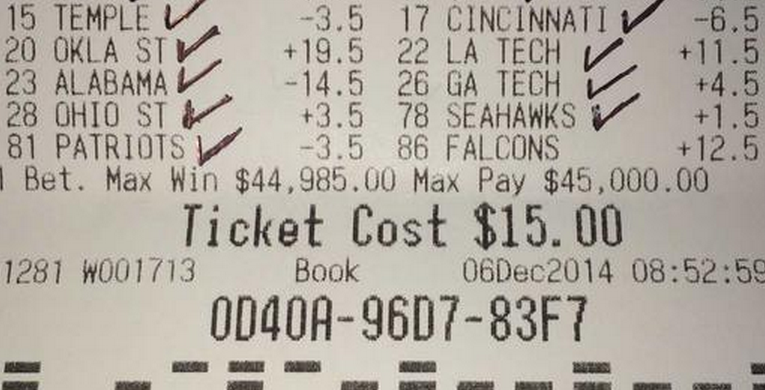 Why Shouldn't I Bet Parlays?
Every parlay bettor has that "missed it by one" story where they only lost one game on their ticket. Well, imagine if they would have played all of those games as individual straight bets. A 5-1, 6-1 or 7-1 night sounds pretty good, right?! Bettors dream of those kind of days, but if those games were placed together in a parlay, then that bettor is walking away empty handed. Also, it's important to determine what the true odds of your parlay are. If you determine that the true odds of your games winning are 10-to-1 and your parlay is only paying 8-to-1, you're making a bad wager.
What is a Correlated Parlay?
There are two types of correlated parlays. The first one occurs within the same game. If you feel that Team A can only cover the spread if it's a low-scoring game, then you would bet on Team A parlayed with the under in that contest. The second type of correlated parlay occurs when there are stakes on the line across multiple games that are tied together. If Team A plays at 1pm ET and Team B plays at 4pm ET, the results of that first game may affect how that second game gets played. Are there playoff implications on the line? Draft positions? You can parlay the results of those games if you think the outcomes are potentially tied together.
What is a Round Robin Parlay?
A round robin is a series of concurrent parlays on the same ticket. By structuring your parlays in a round robin format, the bettor can lose one (or more) leg and still be profitable depending on the ticket. Let's say you are interested in betting on four teams. A round robin would break those four teams into betting combinations by twos and threes. If one of those teams loses but the rest win, it won't kill your whole ticket because the combinations without that losing team will cash.
What is a Parlay Card?
Some sports books offer pre-made teaser and parlay cards that you can fill out prior to getting to the betting window. The most common type of these betting cards is the half-point parlay card. Each game is assigned a half-point spread (i.e. -3.5, -7.5, etc.) to prevent ties. Bettors can choose to wager on as many games as they'd like, usually up to 15 selections depending on the provider with pre-determined payouts. The more games that you choose, the more you can potentially win. In addition to the half-point parlay cards, some oddsmakers offer pre-made teaser offerings as well.
How Much Can I Win by Betting Parlays?
Each sports book makes their own parlay rules and payouts, so there isn't a universal pay chart. Make sure to check with your sports book to see how they handle payouts and rules surrounding ties. Individual sports books have different procedures for how tickets get processed if one leg of your parlay ends in a push. Below is William Hill's parlay chart, based on legs that are -110. A two-team parlay pays +260. A three-team parlay pays 6-to-1.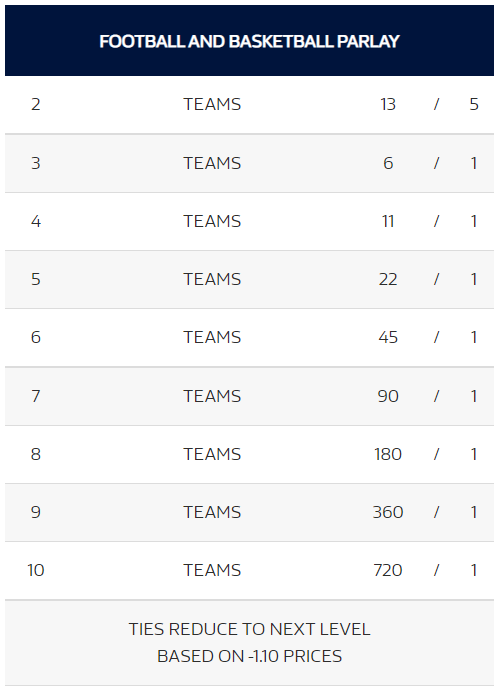 Parlay Betting Explained
Direct from the Westgate SuperBook in Las Vegas, Kelly Stewart talks with professional sports bettor Gianni the Greek about parlay betting strategies for the recreational bettor.
**************************************************
Free sports picks allow you to monitor a handicapping service to see how they perform before signing up for a long term package. WagerTalk provides daily free predictions to our visitors so they can find a handicapper that is right for them.
Looking for more free sports picks and sports betting tips?
Latest Betting Odds and Public Action: Vegas lines updated in real time, including who the public is betting on.
Last-Minute Handicapping Advice

: Check out our extensive library of

handicapping tips

and advice from professional Vegas handicappers (we also recommend taking the time to look over our

sports betting tips video library

)

Want an expert opinion?

Check out the latest

Free Sports Picks

and

Best Bets

from our team of expert sports handicappers.
Make sure to bookmark all the above!