What is a Teaser?
A teaser is a special kind of parlay where the bettor gets assistance on the point spread on multiple games for a decreased payout. The most common teaser is in football where bettors get six points added or subtracted from each of their point spreads. If you are looking at a 3-point underdog, a 6-point teaser would now give them nine points in the game. If you are looking at an 8-point favorite, a 6-point teaser would now require them to win the game by more than two points instead of eight. Each leg of the teaser has to hit in order for the ticket to cash.
Why Should I Bet Teasers?
Seasoned bettors use teasers to cross key numbers in football. The most effective use of teasing in football involves crossing the key numbers of three and seven. The most common margins of victory in football games are by three, six or seven points. So if you can find a teaser leg that helps you capture those three numbers, you are getting the maximum value from that teaser.
Commonly known as a Wong teaser (named after the analyst that promoted its effectiveness), the most profitable teaser angle contains these three parameters:
It's a two-team teaser, preferably at -110 odds.
You are looking to target underdogs of +1.5, +2 or +2.5 and/or favorites of -7.5, -8, or -8.5
You are looking at games with low totals, preferably under 49 in the NFL.
Why a low total? You're looking for games with as little projected variance as possible. The higher the total, the more variance that is expected in the game. The lower the total, the easier it is to project what should occur in the game. This is why college football games should not be used in teasers. College games are higher scoring than NFL games, thus creating higher variance.
To reiterate: You are looking to take underdogs of +1.5, +2 or +2.5 up to +7.5, +8, or +8.5 to get you through those key numbers of three, six and seven, and you are looking to take favorites of -8.5, -8 and -7.5 down to -2.5, -2 or -1.5 using a six-point teaser.
What are Basketball Teasers?
You can tease basketball point spreads and totals just like football, but they are a lot less effective and not recommended for serious betting. Manipulating the point spread in a football game with a total of 45 carries a lot more value than changing the point spread in an NBA game with a total of 230. Basketball teasers are widely available, but not recommended.
How Much Can I Win by Betting Teasers?
Each sports book makes their own teaser rules and payouts, so there isn't a universal pay chart. Make sure to check with your sports book to see how they handle payouts and rules surrounding ties. Individual sports books have different procedures for how tickets get processed if one leg of your teaser ends in a push.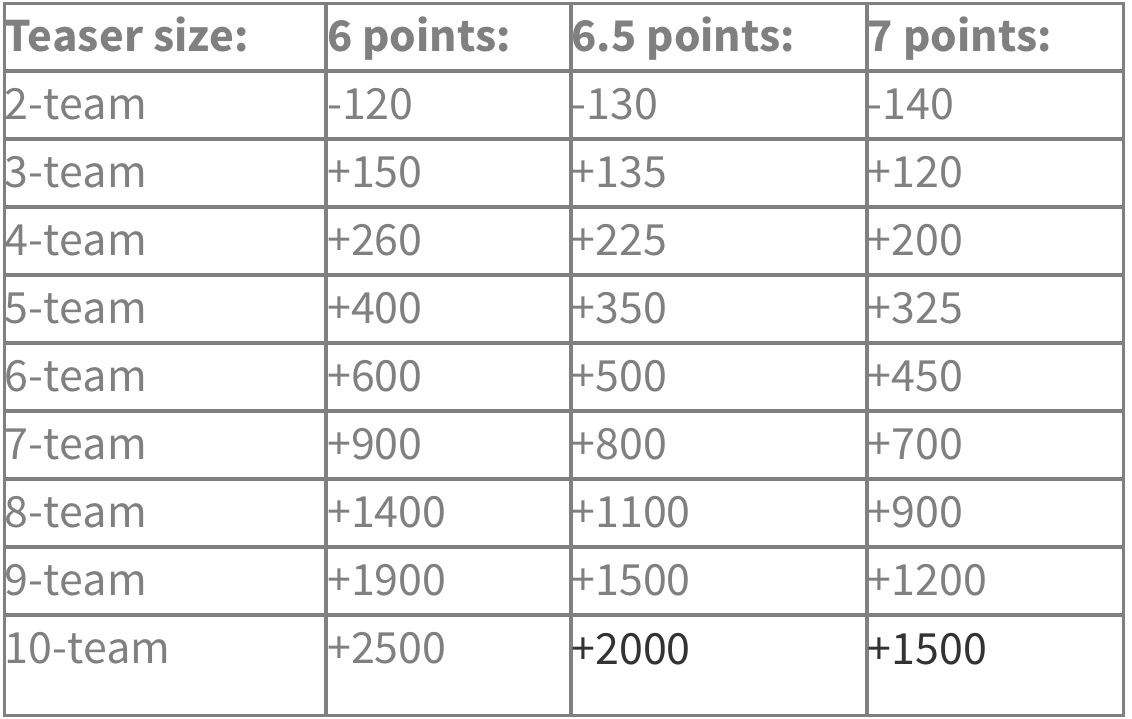 Teaser Betting Explained
As the sports betting industry explodes across the country, new bettors are entering the market every day. Teaser bets, particularly in the NFL, have become increasingly popular, but few bettors actually follow basic teaser betting strategy. Direct from Las Vegas, host Kelly Stewart talks with sports betting expert Las Vegas Cris about how to bet pro football teasers.
**************************************************
Free sports picks allow you to monitor a handicapping service to see how they perform before signing up for a long term package. WagerTalk provides daily free predictions to our visitors so they can find a handicapper that is right for them.
Looking for more free sports picks and sports betting tips?
Latest Betting Odds and Public Action: Vegas lines updated in real time, including who the public is betting on.
Last-Minute Handicapping Advice

: Check out our extensive library of

handicapping tips

and advice from professional Vegas handicappers (we also recommend taking the time to look over our

sports betting tips video library

)

Want an expert opinion?

Check out the latest

Free Sports Picks

and

Best Bets

from our team of expert sports handicappers.
Make sure to bookmark all the above!