What is a Teaser Bet?
A teaser is a special kind of parlay where the bettor gets assistance on the point spread on multiple games for a decreased payout. The most common teaser is in football where bettors get six points added or subtracted from each of their point spreads. If you are looking at a 3-point underdog, a 6-point teaser would now give them nine points in the game. If you are looking at an 8-point favorite, a 6-point teaser would now require them to win the game by more than two points instead of eight. Each leg of the teaser has to hit in order for the ticket to cash.
Why Should I Bet Teasers?
Seasoned bettors use teasers to cross key numbers in football. The most effective use of teasing in football involves crossing the key numbers of three and seven. The most common margins of victory in football games are by three, six or seven points. So if you can find a teaser leg that helps you capture those three numbers, you are getting the maximum value from that teaser.
Commonly known as a Wong teaser (named after the analyst that promoted its effectiveness), the most profitable teaser angle contains these three parameters:
It's a two-team teaser, preferably at -110 odds.
You are looking to target underdogs of +1.5, +2 or +2.5 and/or favorites of -7.5, -8, or -8.5
You are looking at games with low totals, preferably under 49 in the NFL.
Why a low total? You're looking for games with as little projected variance as possible. The higher the total, the more variance that is expected in the game. The lower the total, the easier it is to project what should occur in the game. This is why college football games should not be used in teasers. College games are higher scoring than NFL games, thus creating higher variance.
To reiterate: You are looking to take underdogs of +1.5, +2 or +2.5 up to +7.5, +8, or +8.5 to get you through those key numbers of three, six and seven, and you are looking to take favorites of -8.5, -8 and -7.5 down to -2.5, -2 or -1.5 using a six-point teaser.
What are Basketball Teasers?
You can tease basketball point spreads and totals just like football, but they are a lot less effective and not recommended for serious betting. Manipulating the point spread in a football game with a total of 45 carries a lot more value than changing the point spread in an NBA game with a total of 230. Basketball teasers are widely available, but not recommended.
How Much Can I Win by Betting Teasers?
Each sports book makes their own teaser rules and payouts, so there isn't a universal pay chart. Make sure to check with your sports book to see how they handle payouts and rules surrounding ties. Individual sports books have different procedures for how tickets get processed if one leg of your teaser ends in a push.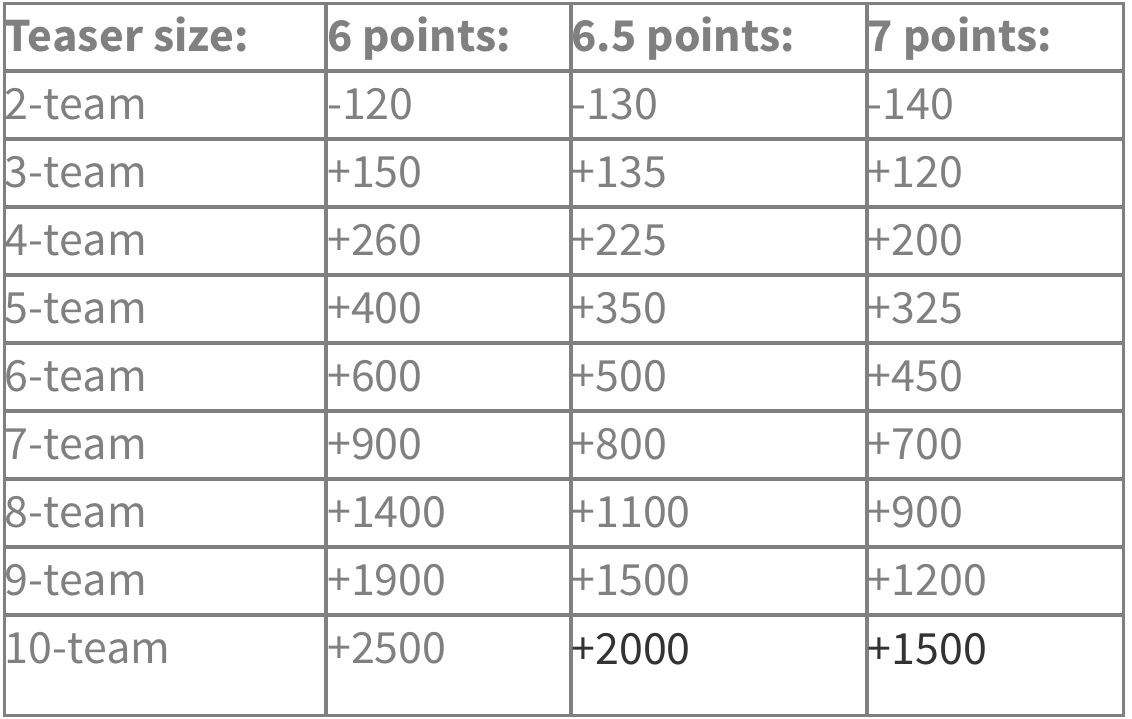 Teaser Betting - Pushing a Bettor's Convictions
A customer can stare at all the events across the board in a day of sports betting and have a feeling that one or two games were a few points different than what is posted. The oddsmakers are good at their jobs after all, so having the 50/50 feeling on a spread for a particular game in a night is a common feeling, as that is what they are making customers try to feel. The legal online sportsbooks offer teasers, which is a parlay wager that shifts several points in their favor for a smaller payout.
A teaser wager is a great way to push a customer's conviction towards one selection or another and can be used strategically to turn a profit over the long haul. Teaser wagers can also be used on over/under totals, require at least two selections at a minimum, (different sportsbook providers allow a different maximum) and provide different options in terms of how many points can be allotted to a certain side.
The increased risk, involving multiple games instead of a game on its own, can reward customers in different ways depending on how many teams are involved. There are plus odds teasers and minus odds teasers.
How Does Teaser Betting Work
Teaser wagers are seen the most during the football season but is also frequently used during basketball season. The most common football teasers selections involve two-to-four teams while altering a spread or total from six-to-seven points.
In basketball, the most wagered teaser type involves two-to-four teams while altering a spread or total from four-to-six points. Just as buying points for a selection comes with a price in the form of a higher vig and less payout for a single selection, creating a teaser with two or more selections also comes with a price if the minimum number of teams are used.
As a teaser parlay grows with more selections, the odds to start to pile up in the customer's favor, as including more legs past a certain point gives the wager a smaller chance of being successful. Customers should familiarize themselves with a teaser payout table that most sportsbook operators provide.
Football Teaser Example
The Philadelphia Eagles are +7 points against the Dallas Cowboys and the Miami Dolphins are +4 against the New England Patriots. A two-team, six-point teaser selecting the Eagles and Dolphins will create a new wager, a two-team teaser, with the Eagles now +13 and the Dolphins now +10.
It is common for a two-team, six-point teaser to have a line of -120 instead of the normal -110 for a single game spread without a teaser involved. A customer would have to risk $120 to win $100 with this teaser, compared to risking $110 to win $100 on a solo spread game. A two-team parlay of regular spreads (Eagles +7 and Dolphins +4) would earn a payout of +264, meaning a $100 bet would pay out a net of $264.
There is a small price to pay for adding the points cushion. The two-team teaser is a minus-odds wager while the parlay of two spreads will be a plus-odds wager. It is key to be comfortable to with how odds change depending on the bet type chosen.
How to Use Teaser Betting
Using key numbers is an important factor in football wagering over the long haul and is an important factor when deciding to implement a teaser or not. Teasing a team over a key number or pushing a team below a key number is the best way for teasers to have the desired success rate.
For example: The New York Giants are -8 against the Washington Commanders and the Kansas City Chiefs are -7.5 against the Denver Broncos. Teasing both favorite options turns the two-team teaser ticket into Giants -2 and the Chiefs -1.5. Both teams that were originally favored by more than a touchdown, only must win within a key number of three points.
Although it may seem obvious, or more likely to happen than not, it is named 'teaser' for a reason, as it usually looks appealing than taking both original spreads in separate wagers.
The key numbers in football are important because the winning margins of NFL games most often fall between three (3) and seven (7) points. There are some cardinal rules for teaser wagering, including not teasing a team through 0 po
Teaser through 0 creates a loss in value between -2 and +2, as ties are quite rare in the NFL, and non-existent in college football. Because teasing through 0 does a worse job at helping a team cover a spread than teasing past other key numbers, that's where the value is lost. There are better ways to pay for alternate point spreads and totals than teasing into a number that does not increase the team's odds at covering.
More Exotic Teaser Bets
Sportsbook operators will also provide more exotic teaser options that work differently than a standard two-team, six-point football teaser. For example, there are 10-point teasers, usually used with three (3) or four (3) teams that dramatically shift the spreads and totals for a game. It is best to go over the house rules for each sportsbook operator before placing teaser bets when diving into some of the more exotic teaser options.
For example, some operators may void an entire three-team, six-point teaser, if two of the three legs cover, but one of the legs pushes. Some operators will adjust the payout for a three-team, six-point teaser, if two of the three legs cover, but one of the legs push and turn it into a two-team teaser. For a 10-point, three-team teaser, the entire bet may be graded as a loss in the same scenario.
Creating teaser betting slips requires some experience in terms of learning what certain results will change the original ticket into, whether it's a modified payout, a loss, or a voided wager. Once user interfaces are explored and house rules are skimmed in terms of finding out an operator's teaser payout table, teasing better can be a successful long-term strategy.
Teaser Betting Explained
As the sports betting industry explodes across the country, new bettors are entering the market every day. Teaser bets, particularly in the NFL, have become increasingly popular, but few bettors actually follow basic teaser betting strategy. Direct from Las Vegas, host Kelly Stewart talks with sports betting expert Las Vegas Cris about how to bet pro football teasers.
**************************************************
Free sports picks allow you to monitor a handicapping service to see how they perform before signing up for a long term package. WagerTalk provides daily free predictions to our visitors so they can find a handicapper that is right for them.
Looking for more free sports picks and sports betting tips?
Latest Betting Odds and Public Action: Vegas lines updated in real time, including who the public is betting on.
Last-Minute Handicapping Advice

: Check out our extensive library of

handicapping tips

and advice from professional Vegas handicappers (we also recommend taking the time to look over our

sports betting tips video library

)

Want an expert opinion?

Check out the latest

Free Sports Picks

and

Best Bets

from our team of expert sports handicappers.
Make sure to bookmark all the above!