So, what the heck does -110 mean in betting?
Whether it is staring at a big board of events in Las Vegas, Nevada for the first time or opening a legal sports betting app for the first time, there is bound to be pieces and parts to the sports betting equation that customers have not seen before.
For those new to the game, understanding odds lines for sporting events may not come instinctually, so below is a breakdown of how to read a sporting event six-pack, and more.
Find free NFL picks and free NCAAF predictions all year at WagerTalk!
How To Read Sports Betting Odds – What Does -110 Mean?
Most games for the four most popular sports leagues (NFL, NBA, MLB, NHL) will be set up in a six-pack. For example, let's look at a football game between the Green Bay Packers and the Chicago Bears. The betting line for the game might look something like this:

| | | | |
| --- | --- | --- | --- |
| Teams | Spread | Total | Money Line |
| Green Back Packers | -7 (-110) | Over 46 Points (-120) | Packers -250 |
| Chicago Bears | +7 (-110) | Under 46 Points (+100) | Bears +200 |
The Packers are a seven-point favorite against the Bears. If a customer wants to wager on the Packers to beat the Bears by more than seven points, he or she will have to risk $110 to win $100. The customer would put in their wager of $110 and would be given $210 (initial bet stake + winning amount) in return.
The same goes for if a customer wanted to take the Bears to lose by six points or fewer or win outright. The oddsmakers are doing their best to have equal action on each side of the spread, so it is common to see both spread selections in a matchup have -110 odds attached to them.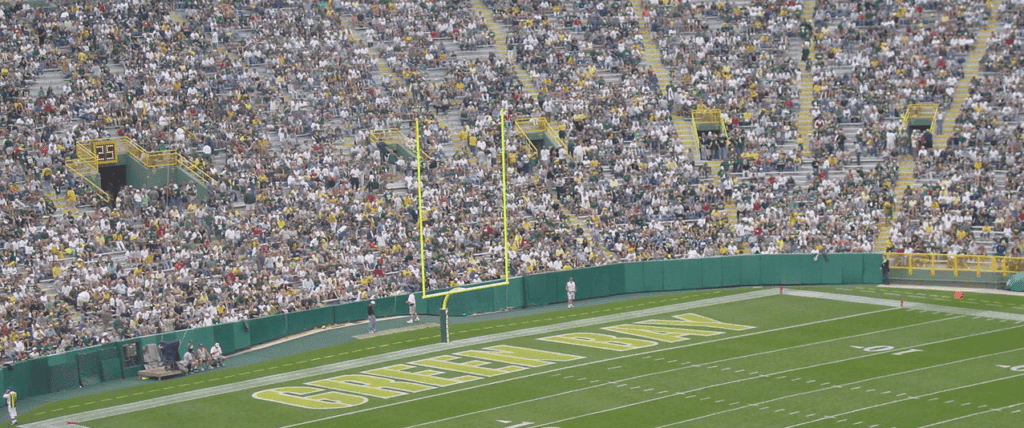 -110 Odds Are Very, Very Common in Spread Betting
A higher number of wagers are placed on the spread compared to the total and money line markets. Therefore, the spread market is usually closest to each side being -110 odds each, when customers may see different odds attached to markets that are wagered on less. The higher number of bets taken on a market, the easier it is for the sportsbook operator to make -110 odds on each side.
In this example, taking Over 46 points combined from both teams in the matchup will require a customer to risk $120 to win $100 ($220 total return). The Under 46 is the first time there is a + odds market, which means the customer will have to risk $100 to win $100 ($200 total return).
Odds with a minus sign is the 'favorite' or more likely outcome, while odds with a plus sign is the 'underdog' or least likely event to occur based on probability.
Lastly, the money line markets are when a customer just chooses which team to win. Because the Packers are seven-point favorites, their money line has -250 odds, meaning he or she must risk $250 to win $100 ($350 total return). On the flip side, the Bears are a considerable underdog, so choosing them to win the game outright with a risk of $100 will win the customer $200 ($300 total return).
Where Do -110 Odds Come From? Why -110?
Simple! The vig!
The standard -110 sports betting line is also known as "the juice" or "the vig," and it refers to the commission or fee that sportsbooks charge for taking a wager.
As mentioned earlier, it is the sportsbook and oddsmakers job to receive balanced action on the -110 spread odds they put on a specific game. This allows the sportsbook to collect the vig from the losing bets and pay out the winning bets without taking on too much risk.
The -110 line is simply a convention that has developed over time as the most common and efficient way for sportsbooks to collect a commission and balance the betting action. However, different sportsbooks may offer different lines depending on the specific matchup and the amount of money being wagered.
**************************************************
Free sports picks allow you to monitor a handicapping service to see how they perform before signing up for a long term package. WagerTalk provides daily free predictions to our visitors so they can find a handicapper that is right for them.
Looking for more free sports picks and sports betting tips?
Latest Betting Odds and Public Action: Vegas lines updated in real time, including who the public is betting on.
Last-Minute Handicapping Advice

: Check out our extensive library of

handicapping tips

and advice from professional Vegas handicappers (we also recommend taking the time to look over our

sports betting tips video library

)

Want an expert opinion?

Check out the latest

Free Sports Picks

and

Best Bets

from our team of expert sports handicappers.
Make sure to bookmark all the above!