Heat vs Nuggets NBA Finals Betting Analysis
WagerTalk NBA handicapper Andy Lang offers his expert Heat vs Nuggets NBA Finals predictions providing betting insights and analysis before NBA Finals Game 1 tip off June 1. The Nuggets won both regular season matchups against the Heat with both being decided by five points or less.
Are you subscribed to WagerTalk TV? If not, what are you waiting for?! Set up alerts so that you never miss an episode of your favorite shows. Drop the gloves with the Puck Time crew and swing for the fences on First Pitch. From betting tips to free picks, WagerTalk TV is your one-stop shop for streaming sports betting content.
Heat vs Nuggets NBA Finals Betting Odds
| Series Betting | NBA Betting Notes, Courtesy of DraftKings |
| --- | --- |
| Moneyline to Win Series: | Miami Heat +320 vs Denver Nuggets -425 |
| Series Spread: | Heat +1.5 (+150) / Nuggets -1.5 (-175) |
| Series Total Games: | 4 Games (+450), 5 Games (+240), 6 Games (+240), 7 Games (+220) |
| Series Correct Score | Nuggets 4-1 (+250), Nuggets 4-2 (+400), Heat 4-2 (+750) Heat 4-3 (+950) |
| Featured Prop Bet: | Distance of longest shot in NBA Finals Over 47.5 ft (+5000) |
Heat vs Nuggets Series Betting Analysis
The NBA Finals features the top seed from the Western Conference against the winner of the Play-in tournament from the East.
It will be quite the contrast according to the standings when the Miami Heat battle the Denver Nuggets for the Larry O'Brien Trophy.
Of course, none of that really matters at this point as the Finals will be decided on defense, shooting and who displays the heart of a champion. At this point, it's pretty obvious that both teams deserve to be playing in June.
The Heat survived the play-in tournament despite being behind late in the 4th quarter against the Chicago Bulls. They also stunned the league by taking down the NBAs top two regular season teams in the Boston Celtics and Milwaukee Bucks. Surviving the seven-game series against Boston will give the Heat plenty of confidence.
The Nuggets haven't been pushed to the brink but have overcome their own obstacles. They eliminated two amazing duo's, beating Devin Booker & Kevin Durant in the Western Conference semi's and Lebron James & Anthony Davis in the Western Conference Finals.
A seven-game series will answer lots of questions. Can Jimmy Butler elevate his game to an even higher level?
Will the triple-doubles keep coming for Nikola Jokic or can Bam Adebayo do anything to slow him down defensively?
Will Tyler Herro return at some point after breaking his hand in the first game of the post-season. Will the Nuggets be able to shake of the rust and continue their torrid shooting pace?
Can the stingy Miami defense shut them down? All these questions and more will be answered in the NBA Finals. One thing is for sure, either Nikola Jokic or Jimmy Butler will leave with a ring and that will be a beautiful moment.
Heat vs Nuggets Regular Season Results
December 30th: Heat 119 @ Nuggets 124
February 13th: Nuggets 112 @ Heat 108
Offense vs Defense
The Denver Nuggets have the most efficient offense that any team has seen through the first three rounds of the playoffs in six years.
The 2017 Cleveland Cavaliers averaged 122.1 points per 100 possessions in 2017 and the Nuggets have averaged 119.7 through their first 15 playoff games. They've done this against the 10th, 7th and 12th ranked defenses during the regular season.
They have ranked first in turnover rate with only 11.7 per game and 3rd in effective field goal percentage at 55.9%.
Their assist/turnover ratio of 2.27 is the 2nd best mark for a playoff team with at least 10 games played over the past 25 years. The top mark actually belongs to the 2019 Nuggets and the third best was the 2021 Nuggets.
The Miami Heat have ranked 6th defensively with only 111.5 points allowed per 100 possessions in the post-season.
They have done this against two teams that ranked top-five during the regular season in the New York Knicks and Boston Celtics. The Heat ranked 3rd in turnover rate during the regular season and Jimmy Butlers 35 steals is 10 more than any other player.
The Stars & The Undrafted
The Nuggets have one of the best 1-2 punches in recent memory with Nikola Jokic and Jamal Murray. Jokic has recorded 8 post-season triple-doubles while averaging a triple-double in each of the last two series. Murray is also riding a massive roll with an average of 27.7 points per game on 48-40-92 shooting splits.
The give-and-go chemistry between them allows players to utilize their strengths and allows Murray to roam free. If the Heat focus on Joker, Murray could easily stay hot and go on an extended run.
You may have heard this before, but Miami is winning with a collection of scrappy, undrafted players. Gabe Vincent, Duncan Robinson and Max Strus have all become great stories as they have taken advantage of opportunities and out played more decorated players.
These players aren't exactly Cinderellas as they have all been in the league for quite some time. However, this is the brightest stage that any of them have ever played on and the Finals have proven to be too big for players with far more credentials.
Coaching & Injury Report
There are different theories on the true worth of a coach at the NBA level. While it's hard to definitively quantify but most would agree that Erik Spoelstra gives you the advantage over almost any coach.
He motivates and holds players accountable and isn't afraid to make lineup changes and adjustments on the fly. He started Vincent and Robinson over Lowry despite his huge contract. It's no longer a stretch to consider him a top-10 all-time.
Mike Malone took over for the Denver Nuggets in 2017 and led them to their first post-season in six years during the 2018-19 campaign.
During the 2020 NBA Bubble, the Nuggs became the first team to overcome two 3-1 deficits, but eventually lost to the future champion Los Angeles Lakers during the Western Conference Finals. The Nuggets are one of six teams who have never won a championship, and this is their first finals appearance since 1976.
Denver enters this series as a heavy favorite, but Malone warned his team to not pay attention to the accolades or outside noise. He mentioned the Finals not being about seeding anymore and that this will be the hardest accomplishment of their lives.
Tyler Herro is ramping up his basketball activities and targeting a return for Game 3 of the finals after injuring his hand in Miami's first playoff game.
Victor Oladipo underwent successful surgery on the tendon in his left knee and has no timetable for his return.
The Denver Nuggets sport a clean injury report and will be well-rested after not playing since Monday, May 22nd.
Heat vs Nuggets Series Prediction
There are plenty of similarities between Nikola Jokic this season and Giannis Antetokounmpo from two seasons ago. Both entered their respective post-season runs with two Kia MVP awards and plenty of respect from around the league.
They are both multi-skilled, foreign-born players. Like Antetokounmpo, Joker is laser focused as he has yet to win an NBA Championship. Jokic and the Nuggets also have the greatest home court advantage of any team in the league with a 65-32 record.
The Heat do have "Playoff Jimmy" and the coaching edge but lack the secondary superstar the like of Jamal Murray.
They are also running on fumes after that emotional seven games series against Boston, which is a recipe for a disaster as they enter the altitude in Denver. This is Nuggets season, and I don't see the Joker being denied.
The price for Denver to win the series is through the roof so we will lay -1.5 games with -150 odds as our main play with a sprinkle on the Nuggets exact result of 4-2 at +400.
Denver Nuggets -1.5 games -175 Draftkings
Denver Nuggets Exact Result 4-2 +400 Draftkings (small play)
NBA Tip-Off Show | May 31
Join a rotating panel of WagerTalk handicappers for the NBA Tip-Off Show as we preview tonight's NBA Playoff card from a betting perspective. We'll go well beyond the Heat vs Nuggets Series.
Stay up-to-date on the latest NBA news, stats, analysis, and predictions with our panel of pro sports bettors as they offer some of their favorite NBA best bets, player props and DFS recommendations on tonight's slate.
Top Sportsbooks. More Sportsbooks = Better Lines.
| | | | |
| --- | --- | --- | --- |
| Sportsbook | Welcome Bonus | States Available | Get Your Bonus |
| 1. Caesars | Get $1250 On Us | AZ, CO, IA, IL, IN, KS, LA, MD, MI, NJ, NY, OH, PA, TN, VA, WV, WY | GET BONUS! |
| 2. BetRivers | $500 in Free Bets | AZ, CO, IA, IL, IN, LA, MD, MI, NJ, NY, OH, PA, VA, WV | GET BONUS! |
| 3. BetMGM | $1000 Paid BACK in Bonus Bets | AZ, CO, IA, IL, IN, KS, LA, MD, MI, NJ, NY, OH, PA, TN, VA, WV, WY | GET BONUS! |
| 4. FanDuel | $1000 No Sweat First Bet | AZ, CO, IA, IL, IN, KS, LA, MD, MI, NJ, NY, OH, PA, TN, VA, WV, WY | GET BONUS! |
| 5. DraftKings | $1000 Deposit Match | AZ, CO, IA, IL, IN, KS, LA, MD, MI, NJ, NY, OH, PA, TN, VA, WV, WY | GET BONUS! |
| 6. Betway | $250 Free Bet | CO, IA, IN, NJ, PA | GET BONUS! |
| 7. Tipico | $250 Risk Free Bet | CO, IA, NJ, OH | GET BONUS! |
| 8. Superbook | $250 Risk Free Bet | AZ, CO, NJ, OH, TN | GET BONUS! |
| 9. Bet365 | Bet $1, Get $200 in Free Bets | CO, NJ, OH, VA | GET BONUS! |
| 10. SI Sportsbook | Bet $20, Get $200 in Free Bets | MI, VA | GET BONUS! |
| 11. Wynnbet | Bet $50, Get $100 Free Bets | AZ, CO, IN, LA, MI, NJ, NY, TN, VA | GET BONUS! |
| 12. Unibet | $100 Free Bet | AZ, IN, NJ, PA, VA | GET BONUS! |
NBA Free Picks
Visit the WagerTalk Free NBA Picks page where multiple handicappers provide their daily free picks along with extensive betting analysis that led them to that play. Just use the link below and get your free NBA plays along with others in many other sports!
NBA Live Odds Screen
WagerTalk's Live Odds Screen features up-to-the-minute lines from a variety of offshore and domestic sports books. Track the NBA point spreads, totals and betting percentages for all of this week's NBA action, including this Heat vs Nuggets showdown, from your desktop or phone.
**************************************************
Meet the Author
Andy Lang has lived in Indianapolis his whole life, and like most people from the Hoosier State, he became fascinated with motor sports. That interest in motor sports turned into a desire to make money off the sport through fantasy contests and sports betting. Like most, he took his lumps when he first got started, but now he is one of the most respected NASCAR bettors in the industry. Andy has expanded that sports betting experience to become profitable in a number of other sports, transforming this interest from a side hobby to a major source of income.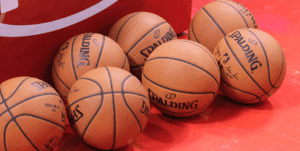 Looking for more free sports picks and sports betting tips?
Latest Betting Odds and Public Action: Vegas lines updated in real time, including who the public is betting on.
Last Minute Handicapping Advice

: Check out our extensive library of

handicapping tips

and advice from professional Vegas handicappers (we also recommend taking the time to look over our

sports betting tips video library

)

Want an expert opinion?

Check out the latest

Free Sports Picks

and

Best Bets

from our team of expert sports handicappers.
Make sure to bookmark all the above!
«
»