Nuggets vs Lakers Series Betting Analysis
WagerTalk NBA handicapper Andy Lang offers his expert Nuggets vs Lakers series prediction providing betting insights and analysis before Game 1 tip off May 16. The Nuggets were the best Western Conference regular season team with the Lakers finishing fifth in the Pacific Division.
Get A $1 Premium Expert Picks Package
First time at WagerTalk? Get your first daily picks package for ONLY $1 using coupon code NEWS1 when checking out! Click here to select your picks and then apply the best bargain of 2023 with coupon code NEWS1.
$1250 On Us Offer from Caesars Sportsbook & $500 2nd Chance Free Bets from BetRivers 
Caesars and BetRivers are known to offer excellent lines on NBA props and NBA point spreads.  If you're stuck using the same 1-2 sportsbooks over and over, you need to expand your sportsbooks!  A small change in lines when you place your bet could result in a 60% increase in winnings over a month of normal betting. Shop around, bet smarter with your NBA betting.  
Get Your Exclusive Caesars $1250 On Us Bonus!
Get Your Exclusive BetRivers $500 2nd Chance Bet Bonus!
Are you subscribed to WagerTalk TV? If not, what are you waiting for?! Set up alerts so that you never miss an episode of your favorite shows. Drop the gloves with the Puck Time crew and swing for the fences on First Pitch. From betting tips to free picks, WagerTalk TV is your one-stop shop for streaming sports betting content.
Nuggets vs Lakers Series Betting Odds
| Series Betting | NBA Betting Notes, Courtesy of DraftKings |
| --- | --- |
| Moneyline to Win Series: | Denver Nuggets -155 vs Los Angeles Lakers +130 |
| Series Spread: | Nuggets -1.5 (+150) / Lakers +1.5 (-185) |
| Series Total Games: | 4 Games (+600), 5 Games (+310), 6 Games (+205), 7 Games (+170) |
| Series Correct Score | Nuggets 4-3 (+300), Lakers 4-2 (+380), Nuggets 4-1 (+475) |
| Featured Prop Bet: | Anthony Davis to average 25+ points and LAL wins series +250 |
Nuggets vs Lakers Series Betting Analysis
The No. 7 seed Los Angeles Lakers will meet the No. 1 seed Denver Nuggets in the Western Conference Finals of the 2023 NBA playoffs to determine which team will go to the NBA Finals.
The Lakers and Nuggets met in the Conference Finals during the 2020 bubble, with the Lakers winning the series 4-1. These teams split their four regular season meetings during the 2022-23 campaign 2-2.
Los Angeles started the regular season 2-10 and became the fourth team to reach the Conference Finals after falling that far behind .500 since the 1970-71 season.
They took care of business in the play-in tournament, then beat the Memphis Grizzlies and defending champion Golden State Warriors to advance. The Nuggets raced out to the NBAs best record, securing the top seed behind two-time MVP Nikola Jokic. Denver dismantled the Minnesota Timberwolves and Phoenix Suns en route to the Conference Finals.
Bookmakers are leaning towards Denver advancing to the NBA Finals as they are -125 favorites to win the series while the Lakers sit at +110. The Nuggets are -5.5 home favorites for Game 1 with a total set at 222.5.
Nuggets vs Lakers Regular Season Results
October 26th: Lakers 99 vs Nuggets 110
October 30th Nuggets 110 vs Lakers 121
December 16th: Nuggets 108 vs Lakers 126
January 9th: Lakers 109 vs Nuggets 122
No.1 Offense vs No. 1 Defense
The Los Angeles Lakers rank first in defensive efficiency through the first two rounds of the NBA postseason, allowing only 106.5 points per 100 possessions.
They were able to do that against two teams that ranked top 11 offensively during the regular season in Memphis and Golden State. On the other hand, the Denver Nuggets scored 118.7 points per 100 possessions through the first two rounds which is the best mark for offensive efficiency in the playoffs.
That was against Minnesota and Phoenix, two teams that ranked top 10 defensively during the regular season. Both sides will be tested down low as they have ranked 1 and 2 in point in paint during the post-season. These teams love to get out and run, ranking 2 and 3 in fast break points.
Battle Of Big Men
For the first time in the NBA Playoffs, two elite big men will get the ultimate test. Overall, this isn't your classic big-man matchup, but it will be outstanding nonetheless.
Davis didn't see a tough matchup against Memphis with Steven Adams out and Golden State opted to go small. Jokic was somewhat tested by Rudy Gobert and De'Andre Ayton but those pale in comparison to AD.
Both players have different skill sets but both have tremendous impacts. Davis will have to deal with Joker's footwork and soft touch around the rim.
Jokic will be dealing with tons of pressure as he doesn't have Lebron James to lean on and he also has to counter ADs athleticism and ability to stretch the floor. This will be interesting to watch and could easily be the deciding factor in this series.
Nuggets vs Lakers Series Prediction
The Nuggets were better than the Lakers during the regular season and have played better in the post-season. Considering the home-court advantage, Denver should be considered the clear favorite to advance to the NBA Finals.
The Lakers will be hard pressed to steal a game in Denver as the Nuggets are a league best 40-7 in the altitude at home. If the Nuggets are able to steal a game in Los Angeles, that should be enough to avoid a winner take all Game 7.
The Nuggets have the superior supporting cast so it's highly unlikely that Lonnie Walker IV or Rui Hachimura steal a game like they did earlier in the post-season.
Ultimately, the Lakers defense won't be able to slow down the Denver offense enough to win the series. They were able to contain the Warriors offense largely because of ADs role as a helper and he won't be able to do that against Jokic.
James and Davis don't play like top-five players on a nightly basis due to age and inconsistency. Jokic does, and he will finally break into the NBA Finals.
Expert Prediction: Denver Nuggets Win Series -125 Caesars
Top Sportsbooks. More Sportsbooks = Better Lines.
| | | | |
| --- | --- | --- | --- |
| Sportsbook | Welcome Bonus | States Available | Get Your Bonus |
| 1. Caesars | Get $1250 On Us | AZ, CO, IA, IL, IN, KS, LA, MD, MI, NJ, NY, OH, PA, TN, VA, WV, WY | GET BONUS! |
| 2. BetRivers | $500 in Free Bets | AZ, CO, IA, IL, IN, LA, MD, MI, NJ, NY, OH, PA, VA, WV | GET BONUS! |
| 3. BetMGM | $1000 Paid BACK in Bonus Bets | AZ, CO, IA, IL, IN, KS, LA, MD, MI, NJ, NY, OH, PA, TN, VA, WV, WY | GET BONUS! |
| 4. FanDuel | $1000 No Sweat First Bet | AZ, CO, IA, IL, IN, KS, LA, MD, MI, NJ, NY, OH, PA, TN, VA, WV, WY | GET BONUS! |
| 5. DraftKings | $1000 Deposit Match | AZ, CO, IA, IL, IN, KS, LA, MD, MI, NJ, NY, OH, PA, TN, VA, WV, WY | GET BONUS! |
| 6. Betway | $250 Free Bet | CO, IA, IN, NJ, PA | GET BONUS! |
| 7. Tipico | $250 Risk Free Bet | CO, IA, NJ, OH | GET BONUS! |
| 8. Superbook | $250 Risk Free Bet | AZ, CO, NJ, OH, TN | GET BONUS! |
| 9. Bet365 | Bet $1, Get $200 in Free Bets | CO, NJ, OH, VA | GET BONUS! |
| 10. SI Sportsbook | Bet $20, Get $200 in Free Bets | MI, VA | GET BONUS! |
| 11. Wynnbet | Bet $50, Get $100 Free Bets | AZ, CO, IN, LA, MI, NJ, NY, TN, VA | GET BONUS! |
| 12. Unibet | $100 Free Bet | AZ, IN, NJ, PA, VA | GET BONUS! |
NBA Tip-Off Show | May 15
Join a rotating panel of WagerTalk handicappers for the NBA Tip-Off Show as we preview tonight's NBA Playoff card from a betting perspective. We'll go well beyond the Nuggets vs Lakers Series.
Stay up-to-date on the latest NBA news, stats, analysis, and predictions with our panel of pro sports bettors as they offer some of their favorite NBA best bets, player props and DFS recommendations on tonight's slate.
NBA Free Picks
Visit the WagerTalk Free NBA Picks page where multiple handicappers provide their daily free picks along with extensive betting analysis that led them to that play. Just use the link below and get your free NBA plays along with others in many other sports!
NBA Live Odds Screen
WagerTalk's Live Odds Screen features up-to-the-minute lines from a variety of offshore and domestic sports books. Track the NBA point spreads, totals and betting percentages for all of this week's NBA action, including this Nuggets vs Lakers showdown, from your desktop or phone.
**************************************************
Meet the Author
Andy Lang has lived in Indianapolis his whole life, and like most people from the Hoosier State, he became fascinated with motor sports. That interest in motor sports turned into a desire to make money off the sport through fantasy contests and sports betting. Like most, he took his lumps when he first got started, but now he is one of the most respected NASCAR bettors in the industry. Andy has expanded that sports betting experience to become profitable in a number of other sports, transforming this interest from a side hobby to a major source of income.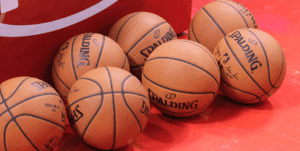 Looking for more free sports picks and sports betting tips?
Latest Betting Odds and Public Action: Vegas lines updated in real time, including who the public is betting on.
Last Minute Handicapping Advice

: Check out our extensive library of

handicapping tips

and advice from professional Vegas handicappers (we also recommend taking the time to look over our

sports betting tips video library

)

Want an expert opinion?

Check out the latest

Free Sports Picks

and

Best Bets

from our team of expert sports handicappers.
Make sure to bookmark all the above!
«
»