Official Kentucky Derby Results
The 149th running of the Kentucky Derby is the 12th race at Churchill Downs on Saturday, May 6, with a scheduled post time of 6:57 p.m. ET.
You can find full results below – and use them to guide some of your picks in the Preakness Stakes. ALTHOUGH, with so few horses racing in both, maybe you'd better trust an expert instead…
Find Free NFL Picks at Wagertalk all year long!
WagerTalk Daily Free Picks:
Wagertalk is the home of free NFL picks! You can also find, each day:
Preakness Stakes EXPERT PICKS:
Are you going to Bet on the Preakness Stakes? Ride along with WagerTalk's Horse Experts SIG and Marco D'Angelo and SAVE $10 using coupon code PREAKNESS10. Both Sig and Marco can be seen on WagerTalk's Horse Racing Show "The Pony Pundits." Save $10 with code PREAKNESS10 on Checkout.

BUY SIG'S PICK!
SIG's back for the second jewel of the Triple Crown with Black-Eyed Susan and Preakness Day selections and tickets for both Friday and Saturday cards at Pimlico. SIG and his subscribers crushed the Kentucky Derby hitting both the Exacta and Trifecta multiple times. The Kentucky Derby exacta Paid $334 for a $2 Ticket, while the Trifecta returned $1,964. SIG covers the Biggest Tracks from around the Country on Daily Basis for WagerTalk supplying his selections and betting strategies in his Daily Horse Racing Report.
Buy MARCO's Pick!
For one price, you will get everything Marco plays on Preakness. Marco has been enjoying a great 2023 as his clients are up OVER $10,000 in the last 4 months playing just $100 per unit. Grab Marco's PREAKNESS DAY All Access Package for just $39 (take $10 off with coupon), and you will get every play, including Marco's exact betting strategies for the 2nd Leg of the Triple Crown, the Preakness Stakes.
Official Kentucky Derby Payouts for 2023
5 – Mage paid $32.42 to win, $14.58 to place, and $9.08 to show.
8 – Two Phil's paid $10.44 to place and $6.52 to show.
14 – Angel of Empire paid $4.70 to show.
$2 exacta (5-8) $330.44
$0.50 trifecta (8-3-14) $491.18
$1 superfecta, (11-Disarm) $15,643.63
2023 Kentucky Derby Finishing Order (Final)
Mage (15-1)
Two Phil's (9-1)
Angel of Empire (7-2)
Disarm (26-1)
Hit Show (24-1)
Derma Sotogake (8-1)
Tapit Trice (9-2)
Raise Cain (32-1)
Rocket Can (27-1)
Confidence Game (20-1)
Sun Thunder (32-1)
Mandarin Hero (18-1)
Reincarnate (14-1)
Kingsbarns (11-1)
King Russell (31-1)
Verifying (14-1)
Jace's Road (32-1)
Cyclone Mischief (28-1)

Official Kentucky Derby results and payouts for past races: 2022, 2021, 2020.
Looking for action the rest of the day? Check out all the free sports picks from the expert handicappers at WagerTalk!
2022 Results and Payouts
Win: Rich Strike ($163.60 | $74.20 | $29.40)
Place: Epicenter ($7.40 | $5.20)
Show: Zandon ($5.60)
Exacta: 21-3 | $1 paid $2,050.60
Trifecta: 21-3-10 | $0.50 paid $7,435.35
Superfecta: 21-3-10-13 | $1 spaid $321,500.10
5 Biggest Kentucky Derby Long Shots
Donerail paid $184.90 on a $2 bet to win the Kentucky Derby in 1913 with odds of 91-1.
The 2022 Derby saw Rich Strike cash in for $163.60 for every $2 win bet placed.
Mine That Bird in 2009 went off at 50-1 and paid $103.20.
Giacomo came from the outside to win the 2005 Kentucky Derby paying back $102.60.
Gallahadion won the Derby at odds of 36-1 in 1940 and paid out $72.40.
How Do Horse Racing Odds and Payouts Work
Horse racing odds are fluid leading up to the race because they are dictated by the amount of money in the pools. A track official will release the morning lines before every race day. Those morning lines are a projection of where the odds for each horse will finish when the race goes off, and do not have any direct impact on potential payouts. Using those morning lines as a starting point, as more money comes in on certain horses, their odds will go down. Horses that aren't attracting a lot of money in the win pool will have their odds go up. Those odds will remain fluid all the way up until the moment the gates open, and the race begins.
The most important thing to note is that the odds/payout you will receive are based on when the race starts, not when you place the bet. If you bet on a horse at 5-to-1 three minutes before the race and he goes off at 3-to-1, you're going to get paid based on those 3-to-1 odds. Conversely, if you bet on a horse at 5-to-1 and he goes off at 8-to-1, you're looking at a nice increased payout.
The wonderful thing about horse racing is that you can make it as easy, or as complex as you'd like to make it. In its simplest form, horse racing payouts are dictated by $2 win bets. If you make a $2 win bet on a horse that goes off at 2-to-1, you would profit $4 and collect $6 with your returned investment. If you make a $2 win bet on a horse that goes off at 5-to-1, you would profit $10 and collect $12.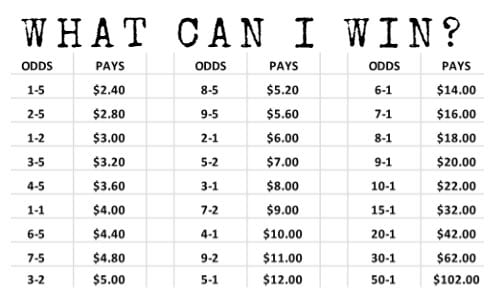 If you do a multi-race wager (i.e. a Pick 3, Pick 4, etc.), you will know what your potential payout is if your ticket is still alive heading into the last race of the sequence. The track will display "Will Pay" amounts for each horse and for each bet type. You will know exactly what you stand to profit if the last leg of your multi-race wager hits.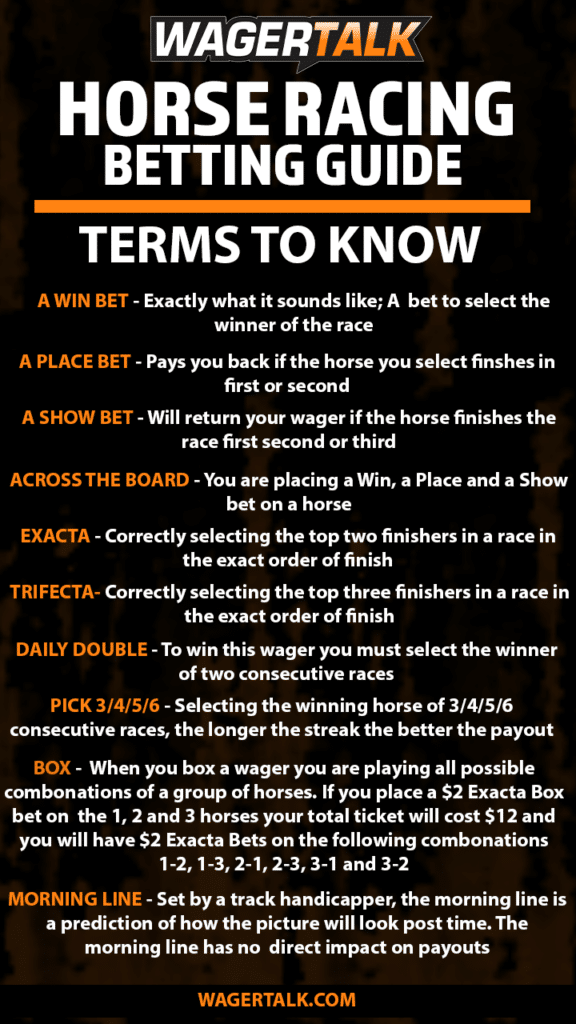 The Kentucky Derby: A Brief History
The Kentucky Derby is the most famous horse race in the United States. It is the first leg of the Triple Crown, and it is held every year on the first Saturday in May at Churchill Downs in Louisville, Kentucky.
The Kentucky Derby was founded in 1875 by Meriwether Lewis Clark Jr., the great-grandson of William Clark, one of the leaders of the Lewis and Clark Expedition. Clark was inspired to create the race after attending the Epsom Derby in England, which is the oldest continuously held horse race in the world.
The first Kentucky Derby was held on May 17, 1875. A field of 15 horses competed in the race, which was won by a colt named Aristides. The race was run at a distance of 1.25 miles, and it was watched by a crowd of about 10,000 people.
The Kentucky Derby has been held every year since 1875, except for during World War I and World War II. The race has become a major sporting event, and it is watched by millions of people around the world.
The Kentucky Derby is a 1.25-mile race that is open to three-year-old Thoroughbred colts and geldings. The race is run on a dirt track at Churchill Downs. The winner of the Kentucky Derby is awarded the coveted Run for the Roses.
The Kentucky Derby is one of the most popular sporting events in the United States. The race draws a large crowd to Churchill Downs and is watched by millions worldwide. The Kentucky Derby is a major sporting event and is a source of pride for the state of Kentucky.
Exacta, Trifecta, Superfecta Payouts from the Kentucky Derby
| | | | | | | |
| --- | --- | --- | --- | --- | --- | --- |
| Year | Winner | Odds | $2 Win | $2 Exacta | $1 Trifecta | $1 Superfecta |
| 2022 | Rich Strike | 81-1 | $163.60 | $4,101.20 | $14,870.7 | $321,500.10 |
| 2021 | Medina Spirit | 125-1 | $26.20 | $503.60 | $1,696.90 | $9,456.40 |
| 2020 | Authentic | 8-1 | $18.80 | $41.00 | $655.90 | $7,925.80 |
| 2019 | Country House | 30-1 | $132.40 | $3,009.60 | $11,475.30 | $51,400.10 |
| 2018 | Justify | 5-2 | $7.80 | $69.60 | $141.40 | $19,618.20 |
| 2017 | Always Dreaming | 9-2 | $11.40 | $336.20 | $8,207.20 | $75,974.50 |
| 2016 | Nyquist | 5-2 | $6.60 | $30.80 | $173.40 | $542.10 |
| 2015 | American Pharoah | 3-1 | $7.80 | $72.60 | $202.00 | $634.10 |
| 2014 | California Chrome | 5-2 | $7.00 | $340.00 | $3,424.60 | $7,691.90 |
| 2013 | Orb | 11-2 | $12.80 | $981.60 | $6,925.60 | $28,542.00 |
«
»