Mountain West Basketball Preseason Predictions
WagerTalk college basketball handicapper Adam Trigger offers his thoughts on the upcoming 2021-22 Mountain West Basketball season. Which teams are being underrated by the betting market? Which teams should you stay away from? Check out Adam's Mountain West Basketball betting preview.
The 2021-22 college basketball season tips off on Tuesday, November 9th, and Adam Trigger wants to introduce himself with a big discount! For a limited time, you can get the opening seven days of the college hoops season for ONLY $39, giving you access to ANY college basketball selections played during opening week, including ANY 5% Best Bets on the hardwood! Stay on top of the latest College Basketball updates direct from Las Vegas!
Mountain West Basketball Betting Preview
I didn't plan it this way initially but I think I'll just work my way across the country from West to East. Someone requested the Mountain West to be next, this is one of my favorite college basketball conferences year-in and year-out, so let's jump in. San Diego State captured both the regular season crown and the Mountain West Basketball Tournament last season.
Mountain West Basketball 'BET ON' Teams
Nevada Wolfpack – It's year three for Steve Alford in Reno, that's how long it took him to get New Mexico to the NCAA Tournament (with a historic 30 win season) during his first go-around in the Mountain West and I won't be at all surprised if he gets to the "big dance" in the same timeframe at Nevada. Alford has all five starters back and guard Grant Sherfield is one of the best players in the Mountain West and one of the best guards in the country. Sherfield's running mate in the backcourt, Desmond Cambridge, is an absolute stud as well and these two will be able to go toe-to-toe with any opposing backcourt on their schedule this season. The chemistry that developed over the past year between these two makes Nevada better than they were last year but I think the Wolfpack have a chance to be one of the "group of five" elites thanks to legitimate size in the frontcourt that can score.
Nevada returns 7 footer Warren Washington, who averaged 10 points per game last season, but the guy that will make the Wolfpack elite is transder AJ Bramah who averaged 21 points and 10.3 rebounds for Robert Morris last season. The MWC is a big step up in competition from the Horizon League but Bramah doesn't have to be "the guy" on this team and I think he will fit nicely into the PF role in an offense where opposing defenses are going to have to be primarily concerned with Sherfield and Cambridge. Texas transfer Will Baker didn't play much in Austin but he gives Nevada another 7 footer off the bench that should be able to split time at the Center position with Washington. Nevada has guard play, size and depth, they have a head coach in Alford that's been to the NCAA Tournament has a coach 11 times and I think the rebuild in Reno is complete with Nevada contending for a MWC title and being undervalued against the other teams at the top.
New Mexico Lobos – Remember, we aren't really concerned with wins and losses, we are focused on which teams should show value against the betting number and I'll go with New Mexico as a "BET ON" as they are one of the most improved teams in all of College Basketball from what they were last season. I'm not expecting New Mexico to contend for a conference title because there are a handful of teams that are far better than the Lobos but new head coach Richard Pitino brought some studs to Albuquerque with him and if he can get all of these transfers on the same page we will absolutely see New Mexico upset some of the better teams in this conference.
New Mexico was an unmitigated disaster last season so Pitino essentially cleaned house and built a team of transfers starting with Jamal Mashburn (who he brought with him from Minnesota) and Jaelen House from Arizona State. Taryn Todd and Gethro Muscadin didn't play much at TCU and Kansas respectively but they and a couple JUCO transfers will compete for starting spots here. Saquan Singleton and Valdir Manuel are the seniors left over from last years disaster, both showed promise at times and with better players surrounding them it's possible for each to contribute and have a better season than last year. New Mexico was also displaced from Albuquerque for the entire season last year and now will be back at THE PIT for home games which is one of the bigger home court advantages in the country. New Mexico was so bad last season and certainly won't be one of the top five finishers in the MWC this year so there should be plenty of instances where the Lobos are getting a huge number against a team that isn't that much better than they are. I think New Mexico could be the "best of the worst" in this conference and I'll look to back them as big underdogs because I think there's enough talent on this Lobos roster where they will be in most games.
Mountain West Basketball 'BET AGAINST' Teams
UNLV Runnin' Rebels – I loved Kevin Kruger as a player, I also think he will probably make a great coach at some point I just don't think it's going to be in his first season as a NCAA Basketball head coach with this mish-mash roster. Kruger has been an assistant at UNLV since 2019 but he's about to take over a team that only has one impact player returning. That player happens to be Bryce Hamilton, one of the top scorers in the MWC last year, but Hamilton scores so many points because he fires up shot after shot and not all of those shots are good. Hamilton is a sight to see when he's hot but that's not always the case and it's going to be difficult to build an offense around him with four guys brand new to the UNLV program. Mike Nuga and his 17.8 points per game transfer in from Kent State, he's accustomed to being the guy taking all the shots so it will be interesting to see if there's chemistry with he and Hamilton on the floor together.
Justin Webster transfers in from Hawaii, he's another shooter so it's interesting if Kruger will even want all of these guys on the floor at the same time. Kruger brings in Jordan McCabe from West Virginia to run the point and he has a slew of guys from power conference schools (Victor Iwuakor from Oklahoma, Royce Hamm from Texas, Donovan Williams from Texas) and freshman Keshon Gilbert that will compete for the rest of the minutes. Hamilton might be a good player but he was "the guy" on a UNLV team that went 12-15 overall and 8-10 in the MWC last year so I don't see how a new coach and a bunch of new players automatically makes UNLV a contender here.
If UNLV ends up being a top team in the MWC this season it will be because Kevin Kruger is a coaching wizard like his dad. Again, I think Kruger has the pedigree to be a good coach but there are too many proven teams in this conference already, UNLV will be priced like a top team like they always are but more often than not I expect the Rebels to be the wrong side against the number.
Extra thoughts:
Utah State Aggies – I want to make a note about Utah State. I think this is the team everyone is going to try to fade because they lose Neemias Queta and coach Craig Smith but the guy the hat will take his place is former UMBC coach Ryan Odom who is an absolute stud. Odom's claim to fame at UMBC was being the first #16 to knock off a #1 when his Retrievers defeated Virginia. Odom brings two of his best players from UMBC to Utah State with him and that actually gives Utah State four senior starters including forward Justin Bean who was one of the better all around players in the Mountain West last year. Utah State might not win the MWC this season but I'll be weary about betting against the Aggies and I wouldn't be surprised if this team actually ends up being undervalued at some point.
Other College Basketball Conference Previews
West Coast Conference Preview
WAC Conference Preview
Big Sky Preview
🏀 #NCAAB special 🏀

I'm going to have a ton of action the first week of #CollegeBasketball & right now you can lock in week 1 of #CBB for just $39

That's about the cost of one 5% play and I'll have at least one of those during this week

Up @WagerTalk https://t.co/rFCFyPWDoI

— Adam Trigger (@TopFlightSI) October 21, 2021
Conference Tournament Betting
The 2021-22 Mountain West Basketball Tournament is a long way away, but it's never too early to sharpen up some of your betting skills. Kelly Stewart sat down with Gianni the Greek and Bryan Leonard to discuss some college basketball conference tournament betting tips, and how those games are different than regular season contests.

2021-22 NCAA Basketball National Championship Odds
The Westgate Las Vegas SuperBook has just released their updated 2021-22 NCAA Basketball National Championship odds, and Gonzaga remains the 6-to-1 favorite, followed by Texas (10-to-1), Kansas (12-to-1) and UCLA (12-to-1). Once the season tips off, WagerTalk's live odds screen will feature up-to-the-minute betting lines from a variety of offshore and domestic sports books.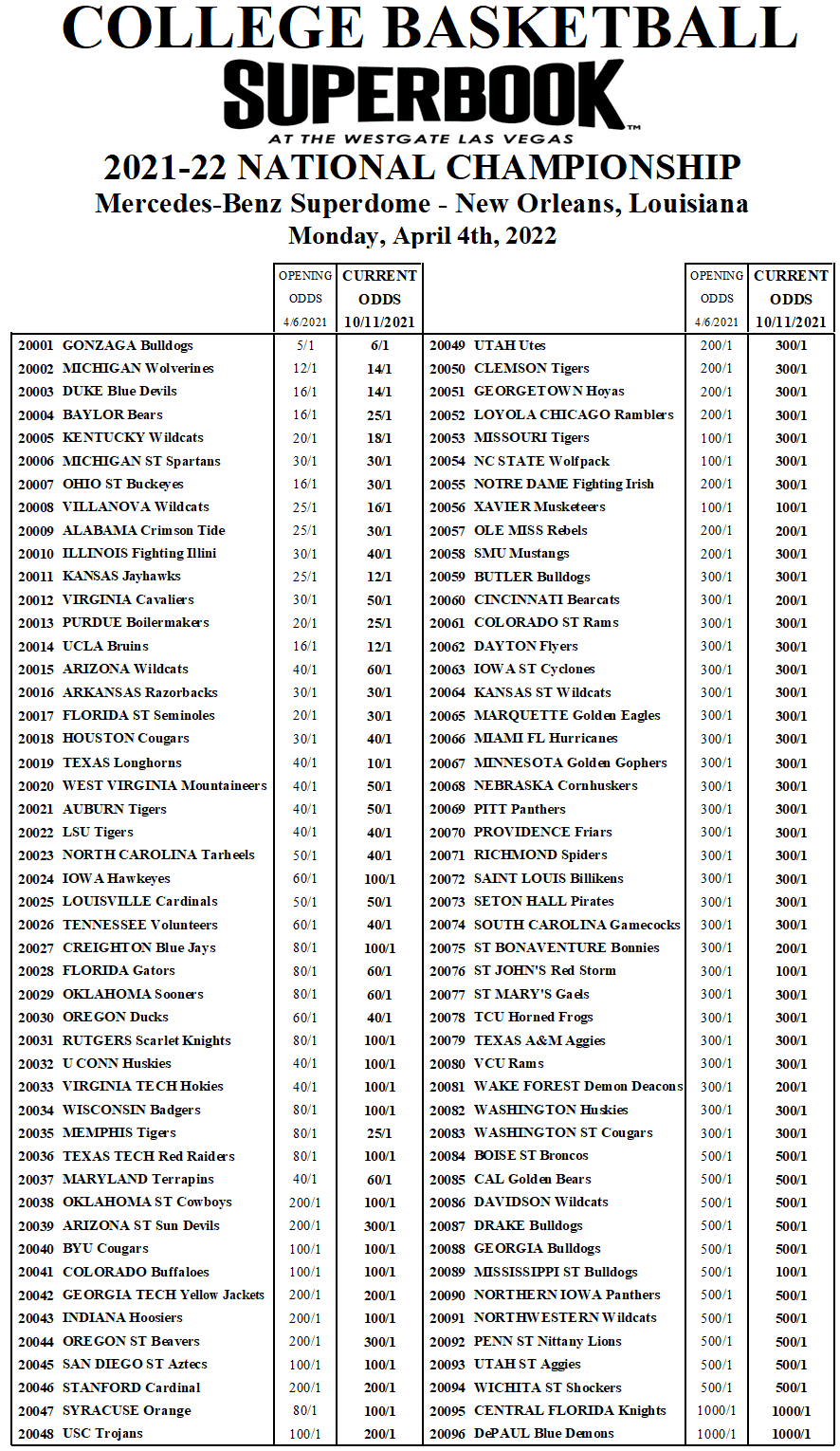 Looking for more free sports picks and sports betting tips?
Latest Betting Odds and Public Action: Vegas lines updated in real time, including who the public is betting on.
Last Minute Handicapping Advice

: Check out our extensive library of

handicapping tips

and advice from professional Vegas handicappers (we also recommend taking the time to look over our

sports betting tips video library

)

Want an expert opinion?

Check out the latest

Free Sports Picks

and

Best Bets

from our team of expert sports handicappers.
Make sure to bookmark all the above!
«
»