College Football Betting Recap For Week 12
Before You Read the College Football Recap… Get $15 FREE towards all expert picks – including CFB Picks
Football content contributor Ron Marmalefsky offers his college football Week 12 betting recap as well as his lookahead to Week 13 of college football kicking off on Tuesday! What are his takeaways and look aheads from a betting perspective? Read below now!
You get free college football picks from WagerTalk all season long!
What Did We Learn in College Football Week 12?
Today I'll take a look at just a few box scores from last week's action.
After that, this week's main topic will be a discussion of teams which currently sit at 5-6, searching for one more win to become bowl eligible.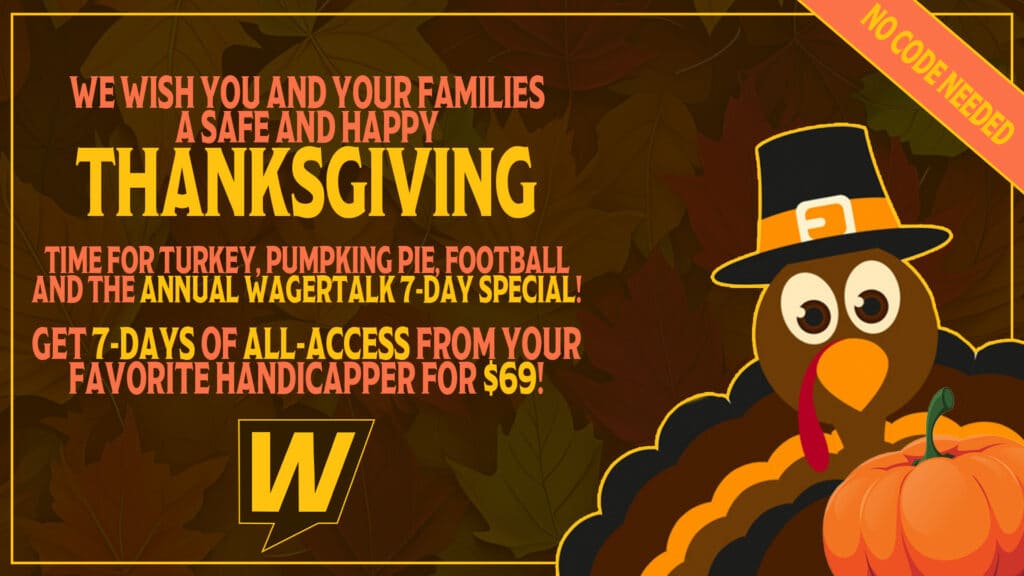 College Football Week 12 Box Score Analysis
Last week I wrote about a few coaches at Northwestern and UNLV who have orchestrated instant turnarounds in 2023.
I noted that Jerry Kill of New Mexico State deserved honorable mention for what he has done. This week he deserves to lead off this column. Kill's team went to Auburn and upset the Tigers 31-10 as a 25-point underdog!
The stat sheet was such that you would have thought New Mexico State was the heavy favorite. They outrushed 214-65 and turnovers were equal.
In fact, New Mexico State ran for about six yards per carry and passed for over 60%. Was Auburn looking past this game with Alabama on deck? This game result was not a fluke.
Kentucky lost to South Carolina 17-14, continuing their slide. A closer look at the box score shows that Kentucky was the better team. They held South Carolina to 257 total yards and led 14-10 until midway through the 4th quarter. They were minus 3 in turnover margin, turning the ball over three times in South Carolina territory, once at the 15-yard line.
Kentucky's coach said as much after the game, lamenting their wasted opportunities. He knew this game should have been in the win column.
Oklahoma won 31-24, breaking a tie with a fourth quarter TD run. BYU played with its backup QB, yet outgained the Sooners 390-368.
A closer look at the box score reveals that BYU could have easily won this game. Oklahoma had two short TD drives after BYU fumbles, and returned an interception for a touchdown as well.
BYU is not known as a running team, yet they ran 38-217 vs. Oklahoma's defense. In fact, BYU was averaging just 3.55 per carry coming into the game. Oklahoma is 9-2, but they still have some areas that need to be fixed.
Finally, this section could not be considered complete without a mention of yet another Nebraska meltdown.
Nebraska led Wisconsin 14-0 before finding ways to lose the game, which eventually happened in overtime.
Nebraska outgained Wisconsin 364-316, but missed a field goal (the only miss of the game) and lost the turnover battle. Suspect offensive play calling was clearly evident after they took the 14-0 lead.
Wisconsin was favored by 6 or 6.5 much of the week, but on game day the line was -7, where it stayed all day long. Those who had Nebraska +7 deserved better, and now Matt Ruhle's team is 5-6 after dropping three straight, with the first two losses each by three points.
College Football Teams Sitting at 5-6, Needing a Win to Become Bowl Eligible
Not all 5-6 teams are created equal. Bowl eligibility means more to some teams than others. I'll take a brief look at the teams who are 5-6 heading into their final game and give my thoughts on their motivation. I'll do this in conference order.
NOTE: Teams listed are from the Power Five Conferences only, plus the American Conference.
South Florida: South Florida last went to a bowl game in 2018. They have a new coach this year and the goal is clearly to end that streak, which would be good for recruiting and result in them getting extra authorized practices.
Next Game: Home to Charlotte.
Motivation: High
Rice: Rice went to a bowl game in 2022 but only because there weren't enough bowl teams to qualify at 6-6. The Owls finished 5-8 last year and have not had a winning season since 2014. Their coach was on the hot seat entering 2023.
Next Game: Home to Florida Atlantic
Motivation: High
Virginia Tech: Virginia Tech had been to a bowl game every season since 1993 except for the Covid year in 2020. They had a losing record in 2022 under their new coach, and their season was cut short due to the tragic events at rival Virginia a year ago. This game will be emotional for a variety of reasons.
Next Game: At Virginia
Motivation: High for both teams due to last year's events
Syracuse: Syracuse just fired their Head Coach after yet another season where they got off to a great start but then went on a long losing streak.
Next Game: Home to Wake Forest
Motivation: Medium. Wake has little to no motivation, but a minor bowl bid might only interest the interim coach
BYU: The Cougars have a storied program but have mostly suffered in mediocrity under their present coach, save for a Covid season when the schedule was soft. The program and the fan base expect much better now that they are in the Big 12. Will Head Coach Kalani Sitake lose his job if they do not win this weekend?
Next Game: At Oklahoma State
Motivation: Low. Oklahoma State has more motivation than they do, being in the title chase.
UCF: UCF had some fantastic seasons under former coach Scott Frost, but they've slightly underachieved under Gus Malzahn and now find themselves needing to win to get to a bowl. I like the talent on this team and I expect the program to compete in the newly configured Big 12 in the future.
Next Game: Home to Houston
Motivation: Medium. Houston's season is done, while UCF might end up being the only newcomer to the Big 12 to achieve a bowl berth. That should be worth fighting for.
Illinois: Last year was a great one for the Illini, but all their superstars left for the NFL and this year has been more of a rebuilding effort. Each of their last five games have come down to the wire. The late loss to Iowa last week put them in this spot.
Next Game: Home to Northwestern
Motivation: Low. A bowl would be nice, but 6-6 just doesn't seem like a must have for this program.
Minnesota: The Gophers are noticeably worse this season, with both QB and RB play down quite a bit.
Next Game: Home to Wisconsin
Motivation: Medium. The Badgers just clinched a bowl berth and will lack motivation, so that helps, but this team is used to loftier goals.
Nebraska: It's been a strange year for the new staff, but every year has been strange with this team. Sporting a turnover ratio of -16, they've been their own worst enemy. As usual, kicking has been a colossal disaster. Ruhle has his defense playing at a decent level, but the offense has no consistency.
Next Game: Home to Iowa (Friday)
Motivation: High. Once a very proud program, even 6-6 would be an improvement over the past several seasons. Points will be at a premium in this game, so it would be nice if they stopped turning the ball over.
California: Most people feel Cal has underachieved this season, but I do not feel that way. Their new offensive coordinator instilled life into the offense and it shows. Yes, the defensive numbers are down, but this is a loaded PAC 12 in 2023, full of amazing offenses. Cal could have been 7-4, but turnovers and kicking cost them the game vs. Auburn, and they couldn't protect a lead in the 50-49 loss to USC.
Next Game: At UCLA
Motivation: High. Cal wants to get back to a bowl game, but the task could be slightly more difficult with UCLA now in a good frame of mind. Had UCLA lost to USC that program would be done for 2023. Still, Cal will be motivated.
Washington State: WSU started 4-0 and then imploded. They suffered a pair of close losses before destroying Colorado last week.
Next Game: At Washington
Motivation: High. Unfortunately, Washington's motivation will be just as high as they attempt to go 12-0.
Florida: Billy Napier's program upset Tennessee in September but have disappointed since then, although they have been competitive. The defense is to blame, and has now allowed 206 points in their past five games.
Next Game: Home to Florida State
Motivation: High, but not because of their 5-6 record. Going 6-6 is not exciting to the fan base, who did not care about their bowl appearance last year when they were run out of the building by Oregon State. What they DO care about is beating an undefeated Florida State team and possibly ruining their bid to get to the four team playoffs.
South Carolina: Always hovering about 6-6, South Carolina has an opportunity to return to a bowl game. Despite experience at QB, the offense has been held down vs. better defensive teams. Clemson will be a challenge.
Next Game: Home to Clemson
Motivation: Medium. The rivalry is what drives this rating. Clemson suffered a rare loss to South Carolina last year and will want to reestablish dominance. This is a winnable game, but there is no motivational edge for the Gamecocks.
Mississippi State: Mike Leach passed away on December 12, 2022. Zach Arnett took over, but his tenure lasted less than one season after he was fired on November 13th. Fair or not, interim coach Greg Knox takes over for the rest of the season. Expect Mississippi State to try and hire a big name to coach the team in 2024.
Next Game: Home to Mississippi.
Motivation: Medium. This will be an emotional game for Lane Kiffin as well, as Kiffin and Leach were friends. I expect a competitive game, but I also suspect that many Mississippi State coaches are working on their resumes.
ONE FINAL THOUGHT – I'm not sure I've EVER had a team exceed their posted win total expectations, yet drop as much as Iowa has in my Power Numbers. A typical Iowa Power Number range is 80-85. I opened Iowa at 84 this season, expecting them to win between 8-9 games. They are currently 9-2, but as everyone knows, their offense is one of the worst in the country.
Since September 23rd, my Iowa Power Number has steadily decreased, and it hit a new low this past week at 74.5. Amazingly, this number might not be low enough, as twice in the past four weeks I have had them overvalued. This fascinates me.
NEXT WEEK: An early look at the Conference Title Games
Follow me on twitter @ronacesports to be alerted of future articles, and to find my weekly podcasts with @lasvegascris on Tuesday and Jeff Dawson on Friday, where I discuss NCAA content as well as NFL content.
Get GoldSheet for Football Betting Tips All Year and Best Bets Today
The Football GoldSheet newsletter is now available for purchase at WagerTalk! From Week 0, in college football all the way through the Super Bowl, get expert analysis, box score recaps, power ratings and much more from the country's oldest and most popular sports betting newsletter.
WagerTalk Live Odds Screen College Football
WagerTalk's live college football odds screen features up-to-the-minute lines from a variety of offshore and domestic sports books. Track the run spreads, totals and betting percentages for all college football games.
**************************************************
Looking for more free sports picks and sports betting tips?
Latest Betting Odds and Public Action: Vegas lines updated in real time, including who the public is betting on.
Last Minute Handicapping Advice: Check out our extensive library of handicapping tips and advice from professional Vegas handicappers (we also recommend taking the time to look over our sports betting tips video library)
Want an expert opinion? Check out the latest Free Sports Picks and Best Bets from our team of expert sports handicappers.
Make sure to bookmark all the above!
«
»