Horse Racing Betting Explained: Odds, Terminology, and Rules
How Does Betting Work in Horse Racing?
Horse Racing Betting Explained
What Our Guide Covers:
Horse Racing Betting: Getting Started
Wagering on horse racing is done through parimutuel betting. Whereas sports betting is essentially the sports book vs. the bettor, parimutuel wagering pits bettors against one another. Money for each wagering type (i.e. win bets, exacta bets, etc.) get placed into individual pools. The track takes out their administrative fees, and the remaining pool gets returned to winning bettors.
How Do Odds Work in Horse Racing?
Horse racing odds are fluid leading up to the race because they are dictated by the amount of money in the pools. Prior to every race day, a track official will release the morning lines. Those morning lines are a projection of where the odds for each horse will finish when the race goes off, and do not have any direct impact on potential payouts. Using those morning lines as a starting point, as more money comes in on certain horses, their odds will go down. Horses that aren't attracting a lot of money in the win pool will have their odds go up. Those odds will remain fluid all the way up until the moment the gates open and the race begins.
The most important thing to note is that the odds/payout you will receive are based on when the race starts, not when you place the bet. If you bet on a horse at 5-to-1 three minutes before the race and he goes off at 3-to-1, you're going to get paid based on those 3-to-1 odds. Conversely, if you bet on a horse at 5-to-1 and he goes off at 8-to-1, you're looking at a nice increased payout.
Other Horse Racing Betting Terminology to Know
A Win Bet – Exactly what it sounds like: A bet to select the winner of the race.
A Place Bet – Pays you back if the horse you select finishes first or second in the race.
A Show Bet – You win your wager if the horse finishes the race first, second or third.
Across the Board – You are placing a Win, a Place, and a Show bet on a horse.
Exacta – Correctly selecting the top two finishers in a race in the exact order of finish.
Trifecta – Correctly selecting the top three finishers in a race in the exact order of finish.
Superfecta – Correctly selecting the top four finishers in a race in the exact order of finish.
Daily Double – To win this wager, you need to select the winner of two consecutive races.
Pick 3/4/5/6 – Selecting the winning horse in 3/4/5/6 consecutive races. The longer the streak, the better the payout.
Box – When you box a wager, you are playing all of the possible combinations of a group of horses. If you place a $2 Exacta box bet on the 1, 2 and 3 horses your total ticket will cost $12 and you will have $2 Exacta bets on the following combinations: 1-2, 1-3, 2-1, 2-3, 3-1 and 3-2.
Morning Line – Set by a track handicapper, the morning line is a prediction of how the betting picture will look at post time. The morning line has no direct impact on payouts.
How Do Horse Racing Payouts Work?
The wonderful thing about horse racing is that you can make it as easy, or as complex as you'd like to make it. In its simplest form, horse racing payouts are dictated by $2 win bets. If you make a $2 win bet on a horse that goes off at 2-to-1, you would profit $4 and collect $6 with your returned investment. If you make a $2 win bet on a horse that goes off at 5-to-1, you would profit $10 and collect $12.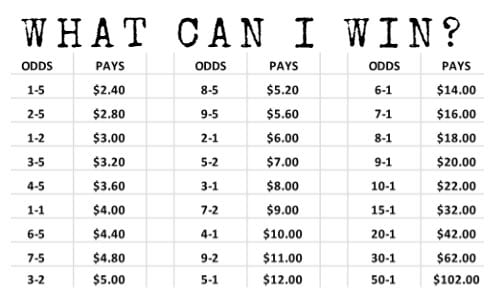 If you do a multi-race wager (i.e. a Pick 3, Pick 4, etc.), you will know what your potential payout is if your ticket is still alive heading into the last race of the sequence. The track will display "Will Pay" amounts for each horse and for each bet type. You will know exactly what you stand to profit if the last leg of your multi-race wager hits.
Must Watch Horse Racing Betting Videos
Horse Racing Rules: How to Work With Tellers at the Track
Technology has made betting on your computer or phone as easy as ever, but there's still a thrill to holding a paper ticket and collecting cash at the window. Wagering at the track can be intimidating for novice bettors. Most tellers are happy to answer questions and assist you with the process…as long as you're not betting on the day of the Kentucky Derby or Breeders Cup. If you plan on visiting a track or off-track betting parlor to make your wagers on one of horse racing's busiest days, make sure you come prepared.
Horse racing tellers request a specific order of information from bettors when they come up to the window. If you follow these five steps, you'll keep the teller (and the people behind you) very happy:
State the name of the track (i.e. Churchill Downs or Santa Anita).
State the race number (Race 8).
State the amount, and type of your bet (i.e. $2 exacta box or $10 win bet).
State the runners you are selecting (On the No. 3 horse, please).
Check your ticket for accuracy before leaving the window.