As far as win totals are concerned, the schedule is a factor you must consider. While teams playing consecutive road games have covered the spread nearly half the time, the straight-up winning percentage in those games is just 43.4% since the NFL moved back the XP in 2015. These records do exclude teams that had a bye week between a pair of road games.
GET YOUR FREE NFL HANDICAPPING GUIDE – SPREADS ON EVERY GAME THIS SEASON, PLUS FUTURES ODDS FROM DIVISION TO SUPER BOWL
When we consider the best season for these road teams was during COVID*, and that Dallas was the only stadium that averaged over 20,000 fans in the 2020 season with 13 teams having no fans, the straight-up record for teams playing in the second of a B2B road game gets even worse. While the road team has won just 43.4% of the 9me in their 2nd of consecutive road games, that number drops to just 41.8% (210-292) when you exclude the 2020 season.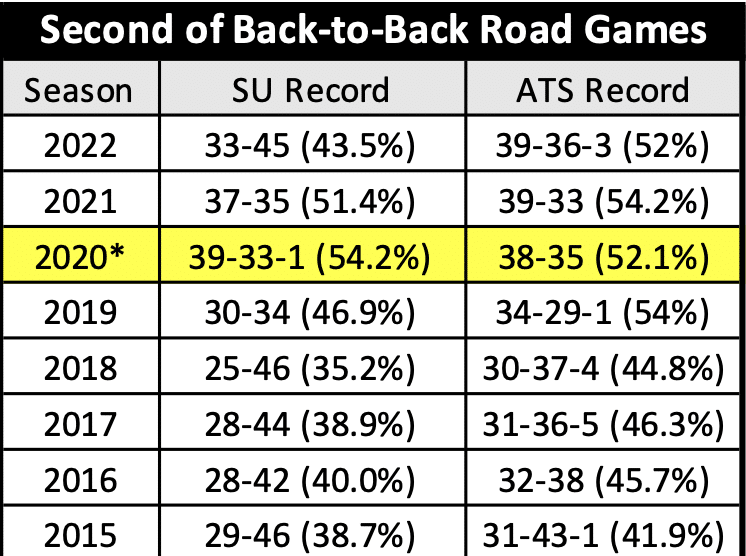 WITH A DIVISION GAME AS THE FIRST OR SECOND OF B2B AWAY GAMES
It is interesting to look at the difference between the first and the second road game of a back-to-back situation being a divisional game. It may not be what you may have antcipated, but when opponents take on divisional opponents in the 1st of B2B road games, despite giving an expected concerted effort, they are 55-37-1 (59.8%) SU and 53-38-2 ATS since 2019! Yet, when they take on that divisional foe in the 2nd game of B2B road games, they have gone 87-121 (41.8%) SU and 45.6% ATS since 2015.
Find FREE NFL Picks all season long at Wagertalk…

NFL Week 1 Spreads and Totals | Free Sports Picks | WagerTalk TV – 400+ Betting Tips!
«
»